Home
Camp Officers
Schedule
Camp Events
Camp
SCV Organization
Reenactments

1999 Award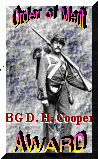 View Guest Book
Sign Guest Book

Best Viewed



800X600
For information about scheduled Events, Re-enactments and Achievements see our Schedule page.
---
Upcoming Campaigns and Meetings
February 15, 2003 - Atoka, Oklahoma
Monthly Meeting - Our next meeting will be at the Atoka Truck Stop. Meeting is at 7pm.
February 22, 2003 - Atoka, Oklahoma
Winter Muster - Our 6th annual winter muster will be held at the Atoka Confederate Museum. A living history and weapons drill will be conducted for the public.
November 7,8,9, 2003 - McAlester, Oklahoma
4th Annual Battle of Perryville - Located on the original battleground. Usual amenities, CS and US military branches, Medical, Civilian and Artillery welcomed. For more information contact: Past Commander Jerry Reese,
(580) 346-7705, or email Ron Hull Visit our web site at Perryville Indian Territory